5 Gifts to Give Your Teen for Their 16th Birthday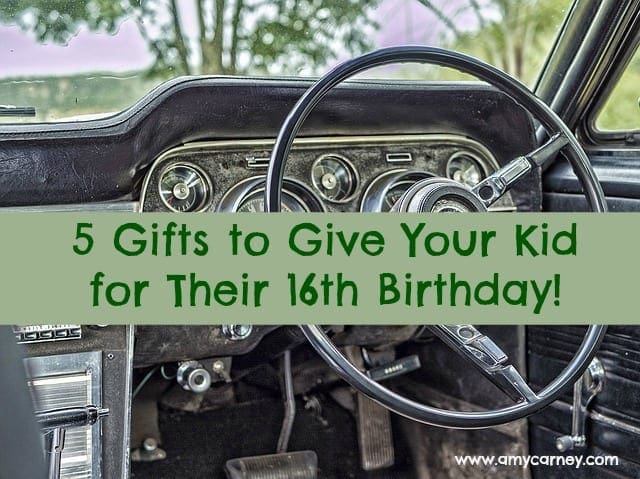 How does this…
Turn into this… in a few blinks of an eye.
I'm not sure how we're already at this stage in our family, but I have to say these guys are way more fun now than they ever were 16 years ago!
The big question I'm asked is did we buy them three cars for their milestone birthday?
Not a chance.
If there was no car with a bow, no epic party or promised iPhone X, then what did we give our 16-year-olds besides a little cash?
Sometimes we can get so caught up in what material item to buy or what Pinterest worthy event to throw, that we forget what's really important to give our kids- the gift of lifelong values.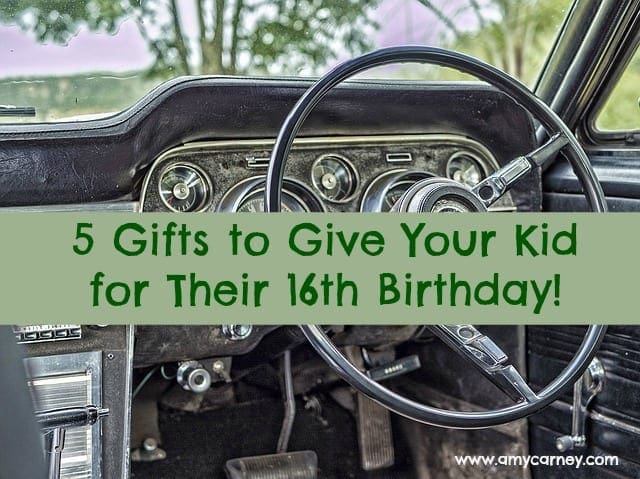 1. The Gift of Desire
All my sons desired for their birthday was to get their drivers' licenses and hit the open road. They wanted the gift of freedom as they turned 16, and that's what we gave them- a ride to the DMV.
There was no party, no promise of the latest electronic or a new car. We had simply instilled in our boys the desire to set up their own appointments online to take the driving test the minute they could on their birthday. I wasn't even aware that you could do that. Good for them.
2. The Gift of Confidence
Six months ago our sons were hesitant to want to drive. They didn't feel confident or see the need for a driver's license as they had Mom or Dad to shuttle them around. Their hesitation made us realize that it was time to push them a bit.
We told our boys they would be taking the driver's permit test on the day they turned 15 1/2, so they may want to study. Each of them passed the test on that day, and their confidence soared as they got more comfortable behind the wheel with each and every drive.
Kids grow up. We must embrace that reality and have the confidence in them to hand over the car keys one day whether we're ready or not.
We must help our teens build confidence in themselves to want to drive, and we must have the confidence as parents to let them do it. The day has come to hand over the car keys to my firstborns, and I'm panicked, scared, and hesitant.
Thank goodness my 16-year-olds don't feel any of that as we want teenagers who believe in themselves and are confident enough to want the privileges meant for them.
3. The Gift of Trust
I panicked as two of my threesome drove off in the dark headed to meet friends for a pickup basketball game. They had to get on a busy (a.k.a. dangerous) freeway to get there and my heart, mind, and mouth were racing as they headed out.
I trailed after them as they walked toward the car to leave. Text me when you get there, so I know you are okay. Text me before you leave so I know when to expect you home. Don't look at your phone when you're driving. Don't let anyone else get in the car with you. Wear your seatbelts.
We know Mom. You've told us this all before.
And they do. And I have.
We must prove to our teens that we trust them by letting them go and not tracking their every move. Lord help all of us that have teenagers out on the roads because this independence stuff is for the birds, which leads me to the next gift.
4. The Gift of Independence
My husband didn't seem to have any of the same anxieties that I had with letting our firstborns head out in a moving vehicle without an adult present for the first time. But, he's also the one who taught them at age three how to ride a bicycle while wearing rollerblades. This was going to happen soon enough. Good thing we trust them.
Thank goodness for dads who don't see a problem with raising boys into men and for moms who encourage their precious offspring to head off when nothing about it feels natural. Strapping my sons into three-point harnesses with me in control of their destiny was absolutely much easier.
We need to allow and support our teen's independence by moving them forward in areas that we aren't necessarily comfortable with.
5. The Gift of Responsibility
When we lead our kids to get their driver's licenses, we must also lead them to the reality that comes with such responsibility. Driving a car is expensive, so better they understand that now. If our sons want the privilege of driving a vehicle, they also get to help pay for some of the expenses.
The allowance wasn't going to cover filling up the tank, so they now have weekend jobs working at a local breakfast restaurant to contribute to gas and high insurance costs.
Invest in instilling the values of desire, trust, confidence, independence, and responsibility in your child now so that when they turn 16, you will have given them exactly what they need.
https://amycarney.com/wp-content/uploads/2017/09/16th-Birthday-gifts-2.jpg
479
640
Amy Carney
/wp-content/uploads/2017/11/parent-on-purpose-logo-sm.png
Amy Carney
2017-09-30 09:21:47
2020-06-20 16:47:46
5 Gifts to Give Your Teen for Their 16th Birthday