9 Ways for Family Fun in New Orleans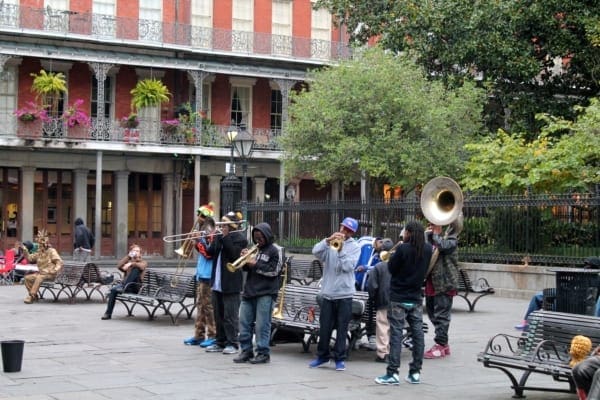 New Orleans, Louisiana is one place that had been on my bucket list for a while. I was so excited to finally get here to check out the Crescent City. New Orleans isn't necessarily known as a family spot, but I beg to differ.
Here are 9 ways to enjoy NOLA with kids in tow!
1. Hang out in Jackson Square
This popular square is a perfect starting point. There is so much to see in just this little area. You can also take a carriage ride tour from here around the French Quarter. Be sure to go into the St. Louis Cathedral. Not only is the architecture gorgeous but this is the oldest cathedral in the United States still in use.
Musicians, street performers, and other local artists surround this beautiful square. Make sure to have plenty of low bills on hand to tip these fun entertainers!
2. Beignets at Cafe Du Monde
Grab a table on the busy patio at this iconic spot and indulge in the city's infamous French donuts. They come in orders of 3 for under $3. Be sure to indulge in a Cafe au lait or Coffee and Chickory as well. Yes, we made our way here a couple of times.
3. Eat more beignets at Cafe Beignet
We decided to become beignet connoisseurs during our three days here.  Unfortunately, the day we were here was freezing and rainy, so we didn't get the live music that normally would accompany your experience here but a few of us did rate these beignets higher than Cafe Du Monde. You try them and let us know what you think!
4. Eat Debris Poboys, Gumbo and Jambalaya at Mother's on Poydras
 It does seem like all we did while visiting New Orleans was eat! There are so many great restaurants and new dishes to try here that you just can't help yourself. We loved this local eatery for an authentic Creole lunch.
5. Enjoy a night at Rock'n'Bowl
This was my favorite thing that we did while visiting New Orleans. We listened to some live Zydeco music as we bowled. Rock'n'Bowl was such a unique place and so much fun! We wanted to find a family friendly spot to listen to some local music and this was just perfect. Admission was $10 per person.
The fun energy here helped my bowling for sure as I was victorious in our family's game. It is $24 to rent the lane for up to 6 bowlers for the hour. Shoe rental is just $1.
6. New Orleans Jazz National Historical Park
Who knew this little National Park was tucked in the French Market? Be sure to visit it and have the kids earn a junior ranger badge while learning about the history of Jazz music in NOLA. Then you can continue to shop at all the booths in the French Market.
7. Louis Armstrong Park/Congo Square
While on the subject of Jazz music, make sure to take a stroll through this park which is on the edge of the French Quarter in the Tremé neighborhood. The beautiful park is dedicated to one of the City's most celebrated native sons and to the tradition of jazz in the City. It is also very close to the Basin Street Station Visitor Center, which you will want to hit as well.
This poor area suffered so much devastation at the hands of Hurricane Katrina that it's no wonder they celebrate the end of hurricane season with concerts and other festivities. They were just setting up for this one in Armstrong Park as we were getting ready to leave.
8. Ride a historic streetcar
Riding one of the streetcars here is a unique and inexpensive way to get around certain areas of New Orleans. We took the St. Charles green streetcar out to see the Garden District, Uptown, and the Tulane University campus. It is only $3 for an all-day pass to hop on and off the cars.
9. If you're brave, stroll Bourbon Street
We had been warned to stay off this famous street with the kids. There isn't any point in purposely waltzing the children along Bourbon Street to witness insanity. We did have to walk along there to go to Cafe Beignet but it was very tame in the morning rain, so there was no action that day thank goodness.
BUT, we were walking from Armstrong Park to Jackson Square on our last morning and happened to cross Bourbon Street. This was our view at 9 am. At least it provided us with some last-minute laughs. I guess it wouldn't be New Orleans without a little crazy.
What are your New Orleans family favorites?
https://amycarney.com/wp-content/uploads/2017/12/IMG_4009-e1565636377508.jpg
400
600
Amy Carney
/wp-content/uploads/2017/11/parent-on-purpose-logo-sm.png
Amy Carney
2014-11-19 18:06:13
2020-07-16 14:17:35
9 Ways for Family Fun in New Orleans